Massage cream for body FC with thermal effect
The action of a cream intended to prevent joint and muscle pain.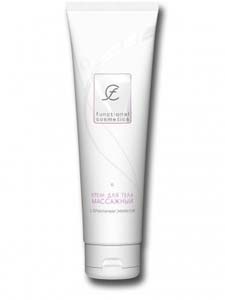 → Buy
Marking:
#505

Weight:
204gr.

Description:


Your joints are in constant motion and exposed to maximum loads. As we age, disturbed function of the regeneration of the connective tissue of joints. As a result, there are muscle and joint pain.
Massage cream for body FC with thermal effect
The action of a cream intended to prevent joint and muscle pain. Phyto extracts of Siberian fir, willow bark and dandelion root stimulates the microcirculation and metabolic processes at the cellular level, has a regenerating and antioxidant action. Shea Butter deeply nourishes the skin, activates its protective function, eliminates the discomfort, provides quality massage framework. The extract of red pepper has a warming effect deep, eliminating discomfort. The result is a decrease in pain in the muscles, increase mobility in the joints, significantly reducing the duration of treatment and recovery from injuries and diseases of the locomotor apparatus.



How to use:
applied to problem areas of the body massaging

Is the medicine:
No

Expiration date:
18 months

Ingredients:
The extract of Siberian fir, dikapril ether, cetearyl alcohol, tsetearil octanoate, glycerin, and extract of red pepper, tsetearef-25 extract, dandelion root, glycerol monostearate, dimethicone, horse chestnut extract, Cremophor RH 40, shea butter, allantoin, extract of willow bark, camphor , euksil k 300, Perfume.

Registration:
R SS 52343-2005

Certificate: