Green Star
energy complex of amino acids and vitamins based on seaweeds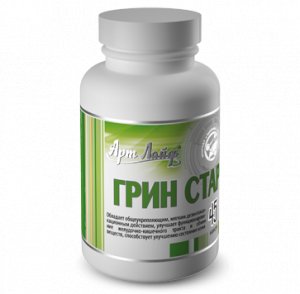 → Buy
Marking:
#3101 (45 øò) #3001 (90 øò)

Weight:
59ãð.

Description:


For a correct formation of the organism proteins and a full-fledged realization of biochemical reactions lying in the basement of all vitally important processes there is a need in a regular supply of a certain amount of amino acids, vitamins and microelements.
Green Star is a multi-purpose general health-improving complex.
It provides support of the organism functions by compensating and maintaining the amino acids, vitamins, macro- and microelements balance necessary to support a full-fledged activity and organism resistibility to the influence of unfavorable factors of the environment.
The basis of the complex is a well-balanced combination of seaweeds – spirulina and chlorella. Spirulina is a source of a full value protein capable to compete with meat. This seaweed contains basic amino acids necessary for a person which constitute up to 65-75% of its weight. A distinctive feature of the spirulina mineral content is that its microelements are in a chelate form which is easily absorbed by the organism (combined with protein molecules). Chlorella is a seaweed enriched with chlorophyll which structure is equal to the structure of human hemoglobin. Chlorophyll is a valuable nutritious support for the organism and an effective natural disinfectant. It strengthens cellular membranes, stimulates the connective tissues formation, accelerates erosion, ulcer and open wounds healing. Seaweeds cellular walls contain polysaccharides which together with wheat cellulose and pectin improve the gastrointestinal state and intestine peristalsis. Echinacea active substances have an immunostimulating action, Ginkgo Biloba extract favorably influences blood circulation. «Green Star» complex has an antioxidant activity due to the acting substances of dog rose, bilberry, green tea, antioxidant enzymes and vitamin Å.




Indications:
• any kind of organism intoxication • infectious and parasitic diseases • digestive apparatus diseases • allergies, immunity system dysfunctions • prevention and correction of disbacteriosis • chronic noninfectious inflammatory diseases • prevention and treatment of thyroid gland diseases connected with a lack of iodine • hypoxia prevention in the conditions of highland, lower temperatures, hard physical activity, extreme kinds of sports

Recommendations for use:
"Green star" is recommended as an additional source of vitamin E, iodine.

How to use:
Take for adults: 1-2 capsules, 2 times a day during meals. Before applying are encouraged to consult with your doctor. Acceptance of four capsules (the recommended dose) to ensure the intake of vitamin E - 20 mg - 200% iodine - 115mkg - 76% coenzyme Q10 - 4mg - 13% dietary fiber - 1040mg - 5% Lactobacillus - 1 * 105 CFU / g of the daily needs.

Contraindications:
Intolerance to product ingredients.

Is the medicine:
No

Expiration date:
3 years from the date of manufacture.

Storage Conditions:
Store in dry place at controlled room temperature. Keep out of reach of children.

Ingredients:
spirulina, chlorella, apple pectin, laminaria (thallus), wheat (shoots), farina, catalase, hips, Echinacea, Lactobacteria complex, vitamin E, Ginkgo biloba (extract), blackberry (shoots), green tea, superoxide dismutase, royal jelly, coenzyme Q 10.

Registration:
State Registration Certificate ¹ 77.99.23.Ç.Ó.6301.11.04 dated 25.11.2004 Specification 9379-024-12424308-04

Certificate: