WOMEN FORMULA
complex for hormonal disbalance and osteoporosis prevention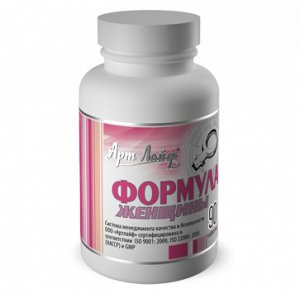 → Buy
Marking:
#6203 (180 tab) #6003 (90 tab)

Weight:
136gr.

Description:


Women's organism undergoes hormonal background changes over a whole period of its life. Some changes are connected with ovum development, others – with the beginning of menopause. Serious shifts in the hormonal balance are necessary to be treated under a doctor's control, whereas preventive measures may help to avoid the consequences of serious hormonal disbalance.
Women's formula is an ideally balanced complex created subject to the women's organism needs.
The complex normalizes the mineral balance and is recommended for prevention of diseases caused by the hormonal background changes such as osteoporosis, tumorous breast and genital organs diseases, elimination of pains connected with premenstrual syndrome, pre- and postclimacterium, support of women's genital organs tone especially during climacteric period.
The complex contains vegetable extracts, minerals, vitamins and amino acids providing maintenance of normal metabolic processes in the women's organism. Extracts of hops, alfalfa, damiana, Chinese angelica, ginseng possess specific substances, phytooestrogens, which maintain a natural hormonal balance, regulate menstrual cycle. Besides, due to their vasorelaxant action phytooestrogens are able to significantly mitigate pain, spasms and convulsions connected with premenstrual syndrome.




Indications:
• women's sex hormones synthesis improvement • women's sex hormones balance maintenance • premenstrual syndrome • climacteric period • xerosis, hair and nails fragility • prevention of women's genital system inflammatory diseases

Recommendations for use:
biologically active food supplement Women's formula is recommended as an additional source of vitamins (A, D, E, C and B group) and minerals (zinc, iron, iodine, selenium). Take for adults, 1 tablet 2 times a day during meals. Taking 2 tablets (the recommended dose) ensures the supply of vitamins: A - 0,74 mg - 74% E - 5.5 mg - 55%; D3 - 0,0054 mg - 108% C - 80 mg - 110%; B1 - 1mg - 67%, B2 - 0,8 mg - 44%; B3 - 10 mg - 50%; B5 - 4.2 mg - 84% B6 - 1 mg - 66% B9 - 0,3 mg - 150 % B12 - 0.0018 mg - 60% Biotin - 0.1 mg - 200% Minerals: Chromium - 0,025 mg - 50% Mn - 0,98 mg - 50% Iodine - 0.074 mg - 50%; selenium - 0.034 mg - 50% Zinc - 6 mg - 40% Fe - 3.7 mg - 26% Calcium - 80 mg - 8% Magnesium - 30 mg - 8% of the daily requirement.

Contraindications:
intolerance to product ingredients. Consult the doctor before using.

Is the medicine:
No

Expiration date:
3 years from the date of manufacture.

Storage Conditions:
Store in dry place at controlled room temperature. Keep out of reach of children.

Ingredients:
calcium carbonate, hops, sodium ascorbate (vitamin C), magnesium oxide, alfalfa, agrimony, ascorbic acid (C), Chinese angelica, inositol, choline bitartrate, potassium chloride, ferric sulfate, Schisandra (fruits), Blessed Thistle, Damiana, niacinamide (Â3), silicon oxide, lecithin, bromeline, bioflavonoids, L-methionine, L- cysteine, sublimated garlic, ginseng, Capsicum, zinc oxide, tocopheryl acetate (Å), Ginkgo biloba (extract), D-calcium pantothenate (Â5), p-aminobenzoic acid, manganese sulphate, gamma-linolenic acid, octacosanol, royal jelly, thiamine mononitrate (Â1), pyridoxine hydrochloride (Â6), riboflavin (Â2), retinol acetate (À), folic acid (Â9), chromium picolinate, potassium iodate, biotin (Í), sodium selenite, cholecalciferol (D3), cyanocobalamin (Â12).

Registration:
Specification 9197-021-12424308-06 State Registration Certificate ¹ 77.99.23.3.Ó.6050.7.06 dated 07.07.2006 Quality management and safety system of LLC "Artlife" is certified in accordance with ISÎ 9001: 2000, ISÎ 22000: 2005 (ÍÀÑÑÐ) è GMP.

Certificate: