Milk candies enriched Pantogemka with coconut flavor
Candies milk, enriched pantogematogenom, vitamins and iodine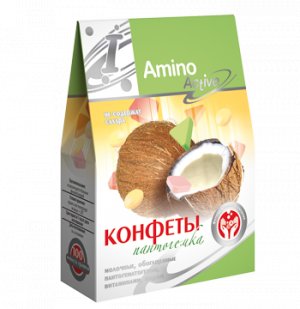 → Buy
Marking:
# 822

Description:


Functional Foods Line «Baby» - is a healthy addition to the daily diet of your children. Product line designed with the needs of the child's body and contain the nutrients needed for growth and harmonious development and strengthen the immunity of the child.
Candy "Pantogemka" with a gentle creamy coconut flavor enriched pantogematogenom, complex vitamins and iodine.
Candy with functional components to help you better cope with physical and mental exercise, improve the processes of memorization have fortifying action.
Recommended for children from 3 years to correct the daily food intake and prevention of IDD.

Nutritional value: Protein 1,6 g, fats 24.06 g, carbohydrates 66.39 g, Vitamin A 0,7 mg, Vitamin D3 4.6 mcg, Vitamin E 3.87 mg,
Vitamin B1 0.72 mg, Riboflavin 0.72 mg, Vitamin B6 0.765 mg, Vitamin B3 8.19 mg, Vitamin B5 3.33 mg, Cyanocobalamin 1.44 mcg,
Vitamin B9 252 mcg, Vitamin H 90 mcg, Vitamin C 37.8 mg, Iodine 67.5 mcg, Energy value 488.5 kcal.



Contraindications:
not recommended for patients with phenylketonuria

Is the medicine:
No

Expiration date:
Shelf life 1 year from date of manufacture

Storage Conditions:
Store at room temperature in a dry place

Ingredients:
milk powder plant, lactose, kafos, flavor "Coconut", multivitamin complex pantogematogen, sweetener aspasvit, potassium iodate.

Registration:
Quality Management System meets ISO 9001:2000 and HACCP TU 9124-150-12424308-2005

Certificate: