Fitness and Health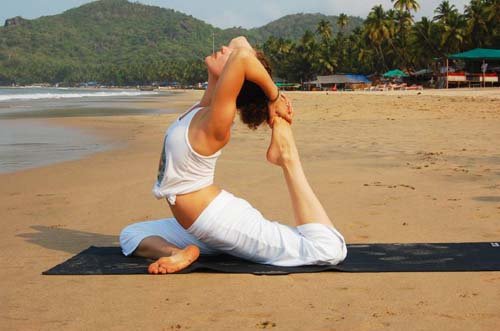 Perhaps the first point of the program "Training" requires clarification: large or small loads. When 30 years ago I published a set of exercises and the idea of the need for heavy loads, many doctors were unhappy, and the expression "run to a heart attack" was applied to me, although I was not talking about race. Specialists in therapeutic physical training, too, believed that the heavy loads are unnecessary and even dangerous. Complexes lessons, which are printed continuously in various magazines, usually very easy.
Over time, attitudes began to change. Already allowed to run after a heart attack, said that after the pulse load should be 120 in 1 min. And, in fact:
if you remember how many kilogrammometrov gave plowman the plow, or laborer, or a hunter, what are our 20-30 minutes? Or even running? No, for the health needs sufficient load. Otherwise, they are not needed at all.
I think that after what has been said about the training too defend the need for physical education in general.
I can only repeat the stereotyped reasoning. Strengthens muscles. Preserves joint mobility and strength of ligaments. Improves the shape. Increases minute ejection of the blood and increases the breathing capacity of lungs. Stimulates the metabolism. Reduces body weight. Beneficial effect on the digestive organs. Calms the nervous system. Increases resistance to colds.
After such a convincing list, which everyone knows why people do not engage in physical exercise?
And they do not. Require a preponderance of the evidence. There is still, at times, the doctors mess up their dogmas, schazheniem the formula: "Do no harm." Doctors are afraid of physical education. Dies in patients with angina at home in bed - everything is normal. "The body is not right", everything was done as needed. Imagine if a doctor has prescribed it to jog, and take a sick and die on the track? What would the relatives and even fellow physicians? "Harm". Who can say that drugs never hurt?
That is what is now needed for physical education: to legitimize its legitimacy as a method of prevention and treatment. Let's start with some general ideas. Training effect of any exercise of any function is proportional to the duration and severity of exercise. Excess loads, bringing them to the limit is dangerous, since overtraining - is a disease. Power and duration of training are different and should be considered separately: exercise for strength and the duration of the function. The most important rule of training - the gradual increase of both, that is, the magnitude and duration of loads. Therefore, the rate of increase of both shall be selected by a large margin, "with the reassurance" to focus on a "slow" bodies. Curve increased pressures approaching 8-shaped. With a low initial fitness should be the addition of 3-5% per day to the level reached. Upper limits opportunities to reach do not have to, I am sure that they are harmful to health.
Exercise can pursue various special purpose, and depending on them to change methods. This applies not only athletes but also patients. For one, the focus - the development of the joint after surgery or after a workout muscle paralysis, for the other - treatment of asthma breath-by KP Buteyko, a third to drive away the excess fat. Most, however, it is necessary to train the cardiovascular system to counter the "diseases of civilization" - a common detrenirovannosti. Anyway, the heart of trains at any exercise and this should never be forgotten.
I want to give practical advice:
First paragraph: Need a doctor?
Most popular brochures on physical culture says that you need. The easiest way is to tell me, safe. But I give such advice will not. And the reason is most simple: there is no practical way of getting to a doctor who understands the physical education.
The only body that really is in danger if you exercise at detrenirovannogo man - the heart. But, under the most elementary rules, and this risk is minimal, if a person is not suffering from diseases of the cardiovascular system. And if you suffer? That's when he was "stained" in the plan, not going anywhere, you have to go to a cardiologist: let him look and give good ".
But the trouble is that in most cases, it "will not give!" He will say: "Still, it's not safe. It is better to abstain. "
Necessarily require any assistance to people with heart disease who have had heart attacks, severe hypertensive patients with persistent high pressure (above 180 and 100 to maximize the minimum), patients with angina requiring continuous treatment. And, perhaps, everything.
Home precaution - the gradual addition of loads. In any case not in a hurry to get well again soon! "Running a heart attack!" - The real thing.
Second point: the initial fitness test.
It is determined by the level of efficiency of the cardiovascular and respiratory systems.
First of all you need to know your heart rate at rest. On pulse in the sitting position is already possible to roughly estimate the heart. If a man, he at least 50 - well, at least 65 - well, 65-75 - directly above the 75 - badly. The women and young men this figure by about 5 strokes more often.
Then he quietly climbed to the fourth floor and counted his pulse. If it is below 100 in 1 minute - well below - 120 - well below the 140 - mediocre. Above 140 - bad. If bad, then no further testing can not be carried and to start training from scratch. More about this will be discussed.
The next step is to test a recovery at the 6 th floor, but at the time. First, in 2 minutes - this is just a normal step. And again - counting the pulse. Those with more than 140 can not try: to train.
These tests involve the calculation of oxygen consumption in cubic centimeters per 1 min per 1 kg of body weight or work in kilogrammometrah in 1 min per 1 kg body weight for 4 minutes maximum load. The relation between cubic centimeters of oxygen consumed and kilogrammometrami is: 1 kgm - 2,33 cm 3 O 2.
Strictly scientific definition of maximum oxygen consumption or work carried out in special laboratories on the machine cycle ergometer, which is a bicycle mounted on the frame, with a brake capable of creating resistance. With the help of an electrocardiograph in the subject continuously record the ECG. There is a pointer to the pulse rate. You can define the consumption of oxygen, if breathing in the gas analyzer, but it's pretty hard to get used to it. Therefore, most oxygen consumption is calculated by the equivalent of work, and power expressed in watts.
I think that the easiest and safest way is to use the stairs. Descent account for 30% recovery, so that 3 floors with the descent should be considered for 4. The essence of the study is to "work" 4 min, rising to 1-2 floors and down again. Then he should stop and count the pulse. The difference is, how many floors you have gone over the 4 min: 5 or perhaps 20. The height of the floors can take an average of 3.5 m. Calculation kilogrammometrov per minute after that it is not difficult. Descents into account by multiplying by 4 / 5.
(The number of floors in 4 minutes) x 3,5 / 4 min x 4 / 5 kgm / min for 1 kg of body weight.
You should begin with the slow pace: about 60 steps in 1 min. 4 minutes go up and down about 9 floors. If the heart rate reaches 150 in 1 minute, then this is your limit - 10.7 kgm / min or 25 sm 3 / min / kg.
There are lots of kinds of samples to determine the fitness of the heart. They differ not only by the load, but also the duration, so their results are difficult to be compared. Here are two short samples are listed in the pamphlet E. Yankelevich "Protect my heart."
Test with squats. Stand up and main stand, put your feet have (closed their heels and toes spreading), count the pulse. In a slow tempo do 20 sit-ups, raising his hands forward, keeping the body straight and wide spreading knees apart. The elderly and weak people, squatting, you can hold hands on the back of a chair or table edge. After the squats again count the pulse. The excess number of strokes pulse after exercise at 25% or less is considered excellent. From 25 to 50% - good, 50-75% - satisfactory and over 75% - bad. Increasing the number of strokes and heart rate twice more indicates excessive detrenirovannost heart, his very high anxiety or illness.
Test with jumps. Preliminary counting the pulse, become the main counter, putting his hands on his belt. Within 30 to make 60 small jump, bouncing off the floor for 5 - b see then again count the pulse. The results were evaluated in the same way as in the sample with squats. Test with jumps recommended for young people, manual workers and athletes.
Cautious writer who, however, has to deal with patients with cardiovascular diseases, warns that before you try, you need to go to the doctor. I think he's be safe: for these samples no doctor needed. True, I'd make one note: people with a clearly unhealthy heart should first try at half load - 10 or 30 squats, jump, and if the pulse of the participation of not more than 50% compared to the rest, try to complete the test.
American K. Cooper has created a very good system of physical exercise. I have already mentioned this. For preliminary and follow-up fitness K. Cooper has developed and supported by scientific research are two tests: a 12-minute and polutoramilny. I will not give them because they do not see that someone used them.
Instead, bring a table of physiological parameters at different degrees of fitness and loads of up to 150 per pulse rate during the 4-minute study. The table is compiled according to Cooper for 30 years of age.
People under the age of 50 years should aim for "good" and "excellent", 50 and 70 years - "good" and "satisfactory", however, and "excellent" is within reach. For people older than 70 years is enough satisfactory performance, but we should not abandon "good."

Table 2. Physiological parameters at different degrees of fitne
The degree of fitness




Number of floors stairs
for 4 min.

Kgm (min) kg

Tues

Maximum oxygen consumition

Very bad

Less
7

Less 10

Less
150

Less
25

Bad

7

10—14

150

25—33

Satisfactory

11

14‑18

225

33‑42

Good

15

18‑21

300

42‑50

Excellent

More 15

Over 21

Over 300

Over 50
Approach to physical education seems to me that way. Should be divided into two main areas of physical exercise.
The first and most important: increasing reserves of the cardiovascular and respiratory systems (subsystems of gas exchange, about which much has been said).
Second: to maintain some level of function of muscles and joints.
The significance of the two directions are different depending on the conditions of life, the nature of work and age as well as the aspirations of man. They correspond to the overall fitness of the physical work of "providing" authorities.
Modest goal, and tools available - that's what you need to start. However, so not too easy. Do not listen to recommendations, which they write, that health can be acquired by making the exercise 05.10 of 5-6 movements with hands or feet, which is enough to pass the day miles and 20 minutes. It's practically useless. There is a minimum load below which could not go. If even they do not overpower, then more and do not try.
So the first thing I recommend starting a training session is to take the table "aerobics" K. Cooper, and to begin to choose his taste six-week preparatory course walk. To do this, select a road in the park or a quiet quarter of a length of approximately 1 or 2 km. You also need to decide on the length of the pitch. Then it is useful when changing routes.
You can start training with my set of exercises or any other. For the heart no matter what muscles are working, it is important for oxygen demand, which makes the body during exercise, and duration of exercise. Introductory training trains the heart of both factors.
Can not demand high power from a weakened entity even for a short time. You also can not immediately give a long, albeit a small load. In this case, the heart does not suffer, but the muscles do not stand up, hurt.
In carrying out the preparatory six-week course should not be allowed to pulse more frequent to more than 130 in 1 minute, anyway, who are already over forty. But we should not and being lazy. Pulse of 100-110 is required.
Let us suppose, how the choice of loads we have and try to compare them on a five-point system (Table 3). The higher the score, the better. Then you can choose: who, what and how much.
Type of

load

Effect for the heart

Effect for the joints and muscles

Safety. Ease of control. Dosing accuracy

Regular time

Additional time to prepare

The requirement of external conditions

Interest. Boredom

Total points

Walking


3

1

4

1

4

3

2

18

Running along the path

5

3

5

2

2

2

2

21

Running in Place

4

2

5

3

5

5

1

25

Gymnastics

3

5

4

2

5

5

2

26

Swimming, biking

4

2

2

3

1

1

3

16

Sports Games

3

5

1

2

1

1

5

18
Consider this table, first of all, the indicators for comparison, what they mean and how to interpret.
1. The training effect on the heart and lungs. Very good at running, but all the others, too bad, if you set a pace that is part pulse of up to 110-120 in the 1 min.
2. The effect on the joints - the largest in gymnastics and games. Games still improve neural mechanisms control the movements - the coordination, reaction. It is important for certain professions or, for example, for motorists.
3. The safety of exercise is determined by the uniformity of the load, the ability to accurately dosed her, no excessive emotions and the opportunity at any time to stop and even sit down.
Running in place is above all other species, then the gym - at home, of course, then walking. Game in last place.
4. The basic time - the duration of exercise themselves, taken with averaging, as some types of exercises clearly irregular. Walking, of course, the longest and running - the shortest.
5. Extra time to pack and dress up (until you reach the place, get ready). For home exercises fees are minimal. On walking given a good score, because it can combine with the road to work and gather all the same need. Most of the time demand sports and swimming. Explanation is not required. Difficult to organize.
6. On the external conditions are already much has been said. Most "undemanding" type, which can do at home: gymnastics, running on the spot. Walking also has a decent score, because you still need to walk down the street.
7. Interest and boredom are self-explanatory, except for one comment, running in place is also very boring, but it can brighten up the television or radio. Running in circles in the park is very boring. Walk a little more fun because you can have a purpose - to work, home, on both sides can look at. Games - the most fun.
If we calculate the scores, then come first "home" exercises - exercises and jogging on the spot. This should be expected - least of all time, no conditions, no prying eyes, including a TV and play. Only to residents of the floor below did not protest.
However, the discrepancy in scores turned out not so great. This means that all kinds of exercises is quite full, with your choice affected by additional factors. Assessment of their very individual. However, each person has his own performance assessment. Presented in the table points - something, more in line with middle-aged man living in a big city. Significance is different for young and old.
Now we should talk about every form of exercise. Not so much writing technique, how many express concerns.
Walking. The most that neither is a natural load. Training effect depends on the distance and rapid pulse.
To have a satisfactory fitness, according to Cooper, you need to walk at least an hour and cover a distance of almost 6.5 km. It should be very fast and hard to walk. It is necessary to slow down to 5 km, you have already run 10 kilometers every day. Such distances are unrealistic. Time does not exist, except that a pensioner. Therefore, walking as the sole method of training is good as an introductory course, indispensable for recuperation after an illness, is quite suitable for retirees who have a lot of time.
The table points omitted an important factor - the fresh air. Rate it pretty hard, and the mechanisms by which the organism is unclear, because oxygen and carbon dioxide in room air exactly the same as on the street. But the action of fresh air can not be denied. Maybe ions? There was this professor A. Chizhevsky, which gave them great value, but tangible evidence can not lead. It turns out that exercise walking is suitable for people with a lot of free time.
But still "not free" should also keep in mind: do not wait for the bus to win 10 minutes of time, and walk.
Only need to walk fast, always quick to frequent pulse to at least 100. If a day goes by at a brisk pace of 4-5 km, is better than nothing. True, it does not give 30 points, as recommended by Cooper, but the half also something that adds.
"Running on the track." Since formal name of this type of training, although the townspeople running around where there are no tracks, and in the countryside, where as many as you want, no runs, say - "Blessed". No matter where, it is important - to run. In recent years, most of it is written on the run, with a light hand New Zealander G. Gilmera. "Beg for Life", "Running to a heart attack" - a reaction to his book.
Physicians perceived race was very critical. Fear and are still not dissipated, although it was given permission to run even had a heart attack immediately, of course, six months or a year. If we compare the number printed on the benefits of running, especially on the run "trot", and how many people are running, the efficiency obtained is very low. On one book, one runner will not have to. Why?
Yes, all on the same "inhibitory factors": to dress, rain, shy, nowhere. The most important factor in the table does not, because he "works" on all kinds of loads - laziness. Somehow, on the run, it affects more than the others.
Sure, running - the "king of exercises". Works many muscles, breathing is not constrained, the load is even, the dosage it is convenient - from the slow running "jogging" (5 km / h) to any speed, please. True, a little excitement leads: some levity to appear and the speed can increase more than they should. For the young only good, but the elderly and the sick, and you can overdo it. More joints, feet hurt often: while vtyaneshsya rather throw ... But this is the main rule of non-compliance of any training - gradually. The trouble is, that it is in the race is usually most easily broken. Boredom comes later when you get used.
All sorts of advice given, how to run. I'm afraid I do not remember everything. Have to rely on their experience. The gradual already been said. It is reflected in the tables - but in any week. In no case, no hurry! Especially for people in age. No need to speed - important is the race. "Jogging" is called a slow run in English, the verb "shake".
This does not mean that the jog is always better than the present races. Who had already learned at a slow pace, who is healthy enough, even running fast. The sooner, the greater the level of fitness, since it attained power. Is a normal race, not fast and not slow speeds 9-10 km / h. Run over two miles every day for 12 minutes - this is enough for the minimum.
Conducted all talk about a workout, whether it is possible to eat and drink before and after it or not, and even that it is, whether the attack on his toes or heels. You just have to run. No warm-ups are not required, no additional, planned calories for physical activity is not necessary. This is not a sport where "pumped up" proteins and calories to muscle increased rapidly. General tips for hygienic exercises are often given in terms of just sport, forgetting that it was "not typical", that 20 or even 40 minutes daily activities - is not training athletes. Then how would lose weight, but not that afraid of losing them from the quarter-hour run. Once again - no additives food on gymnastics! All tips - how to eat, the raw vegetables on the reserve - remain in force, both with and without runs.
Breathing is important, but not very large. I have already spoken out against the special breathing exercises that are recommended for the prevention of oxygen starvation. No need to fear him. Out of breath, hold down and catch your breath. Ended in time or distance, walk a little walk and breathe as one breathes, less is more. Excess carbon dioxide in the blood just promotes vasodilation, and oxygen debt will soon disappear.
It is well to accustom ourselves to breathe nose while running. But it is not easy and will only come with time. Nose breathing while difficult, it seems less effective, but it trains the diaphragm, teaches the respiratory center to carbon dioxide excesses. In winter, protects the trachea and bronchi from the direct hit of cold air. Generally useful. But with the rapid run - not enough.
Much more important to monitor the pulse. Immediately after stopping to count the pulse for 10 or 15 seconds. Not every time, of course, but for the sample as the heart responds to the pace running. Should not allow the heart rate of more than 140 in 1 minute, at least in humans, after forty. When defective heart enough and 120-130 and even 100 in 1 min.
Very important gradual increase of speed and distance, but it must be supplemented by regulations controlling the pulse. Question shoe has lost relevance after the circulation of sneakers.
Clothing is less important. No need to dress warmly, on the contrary, as easily as possible: faster to run, if the cold customize. You can run in any weather, if the dress accordingly. Particularly unpleasant wind and rain, but if you get wet, then for 10-20 min did not catch cold. But unseasoned better protected. Unfortunately, because of omissions on the weather and often ends with enthusiasm running. In connection with this: how many times a week to run? I run every day. In K. Cooper - different modes, from 3 to 5 times a week, but not less. It is important to recruit a specified number of points.
I can not say: who is both a hope ... Excessive pedantry to anything, but only under one condition: when running on the track is unpleasant because of the weather, it is replaced with another full load at home.
Running on the spot. A good way to common practice, although poorly dosed as easy to do jumps lightweight: it is enough to raise the foot on the '15 instead of 20 cm, and a third of the load is gone. "Jog on the spot" - a poor substitute for real jog. But we should not exaggerate the flaws, as there is a good method of control - the pulse rate.
The simplest rule is: the pulse rate should be doubled as compared to rest. However, it is better not to go above 140, but this is not easy to achieve. At any rate, pulse rate less than 120 in 1 min suggests that running in place is inefficient and must be added to the pace. You should not pay much attention to the frequency of steps in the tables, the pulse is much more important. If something does not get on the lift height to compensate for the frequency again to the necessary limits of the pulse. In general, it is important to develop your own pace, providing the necessary power, and gradually bring the time to set the table limit. Regulation of breathing remain in force.
By the way, to learn about the heart rate to determine the degree of breathlessness. I had a 120.
Amosov NM My health system
Comments