Hair Care in the sunny summer time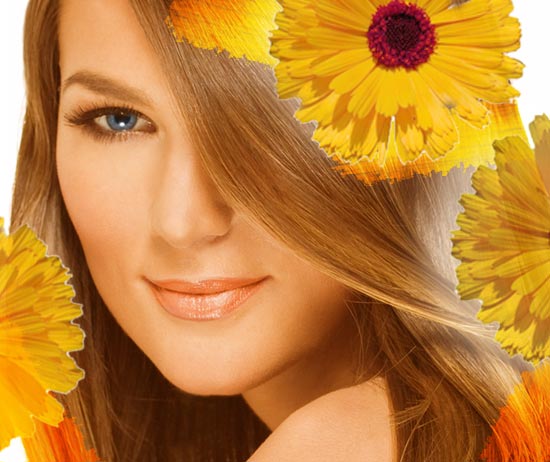 Summer - is not only a time of unforgettable adventure, vivid emotion, tender
sun. It was at this time, our skin and hair need special care. Once autumn arrives, we immediately notice that our hair becomes dry and
brittle, lose their luster ...

There is no difference, had you already basking in the golden sand-sea, or even plan to catch up with the summer and a "velvet" season in the south, one should always remember that the hair need extra protection.
At long exposure to the sun, our hair is different dangers lurk: UV rays, sea salt, chlorinated water in the basin. Proved that the sun's rays accelerate the process of cell renewal of the scalp, respectively, lose their hair, the surface protective layer and become vulnerable.

At the cellular level ultraviolet rays reduce the strength of keratin, that is, destroy the structural protein of the hair shaft. Horny scales that make up every hair under the influence of UV rays and sea water are revealed: a body hair begins to leach protein. Hair becomes weak and brittle, and the ends start sechsya. In addition, aggravation of dandruff is not uncommon in the period of active insolation.

Company ArtLife offers a special program to protect and restore hair during the summer-autumn period of three kosmetsevticheskih product restores the line of hair care products Functional Cosmetics.

Revitalizing shampoo gently cleanse hair and scalp from the remnants of sea salt, chlorine and other contaminants.

Balm Regenerating continue to care for damaged hair. Due to low molecular weight form of its constituent proteins of wheat penetrate deep into the cortex of hair, reduce hair brittleness. As a result, hydrolysates of wheat proteins protects hair from aggressive external influences, strengthens hair follicles, promotes the restoration and preservation of the natural structure of hair. Bioactive basis Balsam smooths and closes scales of the hair shaft, keeping the active ingredients.

Intensive procedure, restoring the health of hair mask is restored. A busy texture mask restores the link structure of protein molecules in the hair. High concentration of active ingredients can provide a focused impact on all the damaged hair. Biotin has seboreguliruyuschee action, combined with shea butter, he nourishes and moisturizes the scalp. For the accelerated regeneration of hair is recommended to use the mask as follows: apply on clean hair, cover with cellophane and a towel, leave for 15-20 minutes, then rinse thoroughly with water.

Regular use of restoring the line of hair care products Functional Cosmetics will restore the vital resources of the hair and return them to dazzle and unique beauty!

Comments