Restoring cream FC for the body
Restoring cream FC for the body is designed to strengthen the vessel walls, improving tone and elasticity of capillaries.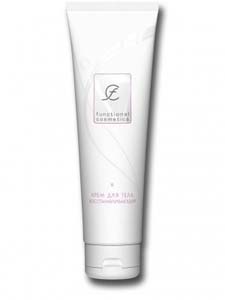 → Buy
Marking:
#520

Weight:
200gr.

Description:


Diseases associated with microcirculation disturbance - one of the most common in modern society. Chronic venous insufficiency - a syndrome manifested by a violation of the venous outflow from lower limbs, whose development is most often associated with varicose disease. Extraordinary prevalence of CVD (68% women, 57% of men) defines the social significance of the problem.
Restoring cream FC for the body
Restoring cream FC for the body is designed to strengthen the vessel walls, improving tone and elasticity of capillaries. Active flavonoids extract of leaves of red grapes have antioxidant effects, protects vessel walls from damage by free radicals. Activation of blood flow provides an extract of horse chestnut, which normalizes the metabolism in tissues and eliminates the symptoms of inflammation of the surface. Extracts of lemon balm and mint eliminate the feeling of heaviness and fatigue in the legs, relieve swelling. As a result, body cream restores provides for prevention and therapy of the primary symptoms of chronic venous insufficiency, such as a feeling of heaviness, swelling, a pronounced capillary image anywhere on the body, ensures the recovery of tissue after injuries, bruises.



How to use:
daily applied to problem areas light massaging movements.

Is the medicine:
No

Expiration date:
18 months

Ingredients:
demineralized water, dikapril ether, cetearyl alcohol, tsetearil octanoate, tsetearef-25, glycerin, glycerol monostearate, red grape leaf extract, allantoin, Cremophor RH 40, dimethicone, caffeine, horse chestnut extract, melissa extract, Bisabolol, Menthol, Disodium EDTA , OSH euksil the 300, Perfume

Registration:
R SS 52343-2005

Certificate: