Modeling cream FC for the body
Modeling cream FC for the body was designed specifically to address the problems of cellulite and reduce the elasticity of the skin.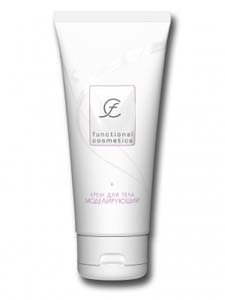 → Buy
Marking:
#522

Weight:
263gr.

Description:


Regardless of the location and extent of cellulitis characterized by an imbalance between the processes of synthesis and breakdown of fat. Cellulite is typically female phenomenon, as in structure women's fat tissue is much different from men. Adipose tissue of women consists of cells of adipocytes, which are separated from each other perpendicular to the walls - dense connective tissue fibers attached to the skin surface. Normal size of adipocytes in the average 15 microns. However, in the development of cellulite their volume can reach 150 microns. As a result, the deformation of the skin, it seems to be drawn into the points of attachment. The skin surface becomes uneven and takes the form of "orange peel".
Modeling cream FC for the body
Artlife Modeling cream FC for the body designed specifically to address the problems of cellulite and reduce the elasticity of the skin. The basis of a special cream lipolytic complex of plant origin, which can reduce cell-adipocyte to normal size, which allows ease the pressure on the epidermis and smooth skin texture. L-carnitine and caffeine active transforming lipids into energy cells have a marked effect of the simulator. Grape seed oil improves skin tone and elasticity. Use cream with a daily massage is especially effective in stimulating blood circulation, lymphatic drainage and removal of toxins. As a result, modeling cream FC for the body creates a barrier that prevents the formation of new fat depot, the skin becomes smooth and elastic.



How to use:
daily applied to problem areas massaged.

Is the medicine:
No

Expiration date:
12 months

Ingredients:
demineralized water, glycerin, cetearyl alcohol, dikapril ester, jojoba oil, grapeseed oil, tsetearef-25, glycerol monostearate, L-carnitine, Garcinia cambogia extract, caffeine, Cremophor RH 40, dimethicone, sodium polyacrylate, Disodium EDTA, OSH BHA, propyl gallate, euksil K 300, Perfume.

Registration:
R SS 52343-2005

Certificate: