ACEvit
Complex of vitamins with antioxidant, anti-inflammatory and vaso firming effects.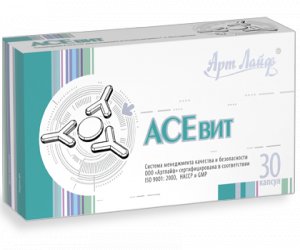 → Buy
Marking:
#3235 - 30 kaps

Weight:
46gr.

Description:


Vitamins A, C and E - are the three most powerful antioxidant. They protect the body from the harmful effects of external and internal toxins and prevent damage to cell membranes and thereby preserve the integrity of tissues, and thus ensure the correct functioning of all organs.
Complex ACEvit in the correct proportions combines of vitamins: A, C and E.
The use of these vitamins can not only prevent the development of oxidative stress and its associated cascade of inflammatory reactions, but also increase the overall resistance of the body, prepare it for the perception of increased intelligence, psycho-emotional and physical stress. Vitamin A is part of the complex in the form of carotenoids, provitamin A, the inactive form of vitamin - this feature allows the body to synthesize from a provitamin of vitamin A, which he really needed. The peculiarity of this complex - the absence of inert ingredients. A carrier of active substances in it is red palm oil, which contains a set of polyunsaturated fatty acids, not synthesized by the human body, but necessary for the implementation of biosynthetic processes at the cellular level. The combination of vitamins A and E with vitamin C and unsaturated acids of red palm oil provides a unique protective and healing effect, postpones aging, activates mental activity, and generally raise the tone of all body systems.



Indications:
• prevention gipoviaminozov • prevention of inflammation of the connective tissue • High physical activity (exercise) • state after emotional stress • healthy people as a supplementary source of vitamins • recovery from past infection • to strengthen the immune system during active viral infection

Recommendations for use:
recommended as a supplementary source of vitamin C and E, beta carotene.

How to use:
1 capsule per day during meals with food.

Contraindications:
Individual intolerance to the components. Before applying are encouraged to consult with your doctor.

Is the medicine:
No

Expiration date:
2 years from the date of manufacture.

Storage Conditions:
Store at room temperature in a dry place inaccessible to children.

Ingredients:
ascorbic acid, tocopherol acetate, beta carotene. Other ingredients: red palm oil, Aerosil, ascorbyl palmitate, gelatin capsule. Intake of 1 capsule provides intake of vitamin C - 70 mg - 100% Vitamin E - 15 mg - 100% beta carotene - 5 mg - 100% of the recommended daily intake levels.

Registration:
Quality Management System and Safety LLC Artlife "certified under the ISO 9001: 2000, HACCP and GMP. TU 9197-186-12424308-06

Certificate: