ArtLife company - art of healthy life!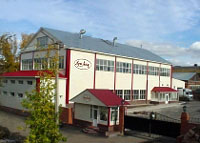 ArtLife - is an example of quality, high-tech and good business, with a noble mission: to give health and welfare.

Appearing on the market in 1997, ArtLife immediately set itself the fundamental conditions:

- Only its own production;
- Only ruble prices;
- Only domestic scientific base.

Through these strategic decisions ArtLife become an absolute leader in the domestic scientific developments in the field of biologically active complexes and functional foods.
Our production takes first place in many Russian and international exhibitions of products for health, our reports is given a central place in scientific conferences and symposia. Advantages of biologically active complexes developed by ArtLife that they are adapted to dietary habits of the inhabitants of Russia and the CIS countries and take into account the lack of vitamins and trace elements in these regions. Company ArtLife today - a full holding companies, which provide a guaranteed quality of products and its prospects for smooth production.

Virtually all raw materials grows enterprise ArtLife Flora in the Altai Mountains, the plant produces specialized equipment ArtLife-Techno in Yurga. Thanks to the work at all stages of production and management company in the shortest possible time has become a leader in its field. We work in one of the most critical areas of activity, so important for us to be confident in the quality of its product and to make and you have no doubts about security. That is why the company is accredited in several international quality standards, has on its base of high-tech, serious quality control laboratory, collaborating with leading domestic research institutes, medical institutions.

We invest a lot of effort, time and money in it to train in Russia's consumer habits properly belongs to their health, engage in prevention rather than treatment. Health - the most precious thing a man has, it must be supported and strengthened, and not to lose and try to return. These principles positioned ArtLife all the years of its work in the market. The company was founded, operates and develops in order for you to be healthy, happy and successful!
Comments