Company Artlife awards and certificates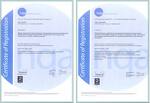 Today, the global medicinal market every third therapeutic drug is a drug of herbal (natural) origin. This is understandable, for a rational combination of herbal therapeutic possibilities of their use greatly expanded. There is no doubt the feasibility of vitamin-mineral complexes and extracts from medicinal plants for primary prevention of diseases, supportive, permanent or course therapy in the treatment of chronic patients, in order to rationalize a litany of different population groups. In recent years, the topic was devoted to a sufficiently large number of seminars, international and Russian scientific-practical conferences, initiated by: Russian Academy of Medical Sciences. Institute of Nutrition. State Committee for Sanitary and Epidemiological Surveillance of the Russian Federation. Department of Health and Social Development. Medical Center of the Russian President Administration and other government organizations, which shows the development of special relevance and urgency of using the products of this class. Case in point is the decision by the Russian Government Resolution "On the concept of public policy and healthy nutrition of the population of the Russian Federation for the period up to 2005» (№ 917 from August 10, 1998). Participants held July 1-2, 1999, Thomas Scientific Workshop, sponsored by the Institute of Nutrition were and the company Artlife, refer to the regions with the resolution, which determines the priority of the most important micronutrient deficiency elimination and reduction of the growth of common diseases. And this treatment is not left without attention, for example, the snake and the August 1999 letter was signed by the Chief Medical Officer of Moscow N 12/22-219 «On introduction into the diet of Clinical Nutrition biologists cally active additives to enhance immunity , normalization of metabolic processes in the body and deficiency of the normal microflora. "Civilized" use of dietary supplements in medical practice focuses on in other parts of the country and as the near abroad: one of the first, a draft regional target program "Healthy population of Krasnoyarsk Territory for 1999-2003." held scientific conferences and symposia International symposium on "Federal and regional aspects of healthy public policy litany, Kemerovo. 2002;
VI International Symposium "Biologically active food supplements th problem optimization power", Sochi. 2002;
scientific-practical conference: "Rational use of VAD to food as a factor in the treatment of" r, Vladivostok. , 2002;
"Modern aspects of health food." From Dnepropetrovsk. Ukraine. 2002;
11-th All-Russian NPK "The achievements of modern gastroenterology, Tomsk. 2003; 12-th All-Russian NPK "The achievements of modern gastroenterology, Tomsk. 2004. and several others. In all these activities the company takes an active part Artlife. Contribution to the health of the population is not left unattended. In 2002 the Federal Assembly of the State Duma NGO Artlife was awarded Certificate of Participation Program of the Russian Federation "Health of the Nation." Artlife Company - permanent active participant in industry programs, the largest exhibition ownertion of multiple sets of medals and diplomas: medal winner of the contest environ cally high-quality products, Moscow, 2001; All-Russia competition "the 1000 best enterprises of Russia 2002". - Medal winners the All Siya Forum zdravnitsa-2003 ", Kislovodsk, 2003. - Diploma of 1 degree;
exhibition "Russian resort amenities and service industry" r, Kislovodsk. 2003. - Diploma, the contest "The best diagnostic and health-improving technology of regenerative medicine - 2003" under the Industrial Program of the Ministry of Health. 2004. - Deep scrap. Exhibition of specialized food products and food supplements, Mr. Ekaterinburg. 2005. - Diploma;
medal in the category "New technologies and products for functional purpose achievements in implementing a healthy lifestyle, Moscow. 2005; 3rd International Specialized Exhibition-Fair "Healthy Diet", Tomsk. 2005 - Medal: 12 th International Specialized Exhibition "Pharmacy 2005", Moscow, 2006 - Diploma and medal, 8-th Moscow International Exhibition for Food ingredients, additives and spices, Moscow. 2006. - Diploma, 7 th International Exhibition Pharmtech-2005. the latest technology the pharmaceutical industry, Moscow. 2005. The company Artlife techno introduced its latest technological development - Diploma, a specialized exhibition "On the PA-EX TO 2007. Moscow. - Diploma. This list can still go on and on and participate in the largest and most prestigious exhibitions in Russia proves once again that the company Artlife is a modern high-tech enterprise, it is advantageous positions itself in the market of dietary supplements, food ingredients and equipment for the pharmaceutical and food industries These exhibitions and forums on Management believes that appeared for the company and a good opportunity to further strengthen the positive image and enhance goodwill among professionals, to create a positive image of the company in tezah potential business partners and customers.
Thus, the granima curative and preventive medicine - of diet therapy and pharmacology, and now stood out a promising new scientific and practical direction - mikronutrientologiya happened that at the beginning of the XXI century natural "biologically active complexes or so-called biologically active food additives, return us to there ancient times, when natural vegetable and mineral matter were to man both food and medicine, with the difference that today they can be based on verified scientific evidence, and based on modern high-tech evidence of the importance of application of specialized vannogo food is. that today the organization of clinical nutrition in hospitals is an integral part of the healing process and is one of the main activities in this "individualization of standard diets performed through the use of a therapeutical znteralnom and nutritional dietary supplements and prepared special blends" (Order Ministry of Health of the Russian Federation № 330 of 05.08.2003, Annex 4).
Consequently, the Russian Ministry of Health official speaks about the need to include dietary supplements and specialized food products for the individualization of therapeutic litany of patients, rehabilitation, etc. There is a special order MH of the Russian Federation № 139 dated 04.04.2003 "On approval of instruction on the implementation of health technologies in the activity educational institutions "aimed at ensuring the prevention of morbidity of children in educational institutions and improve their health by including dietary supplement and improvement of sanitary facilities Indeed nutrition in health technology. Often would open these orders officials.
"The art of being healthy," N. Zhevachevsky, Novosibirsk, 2009
Comments