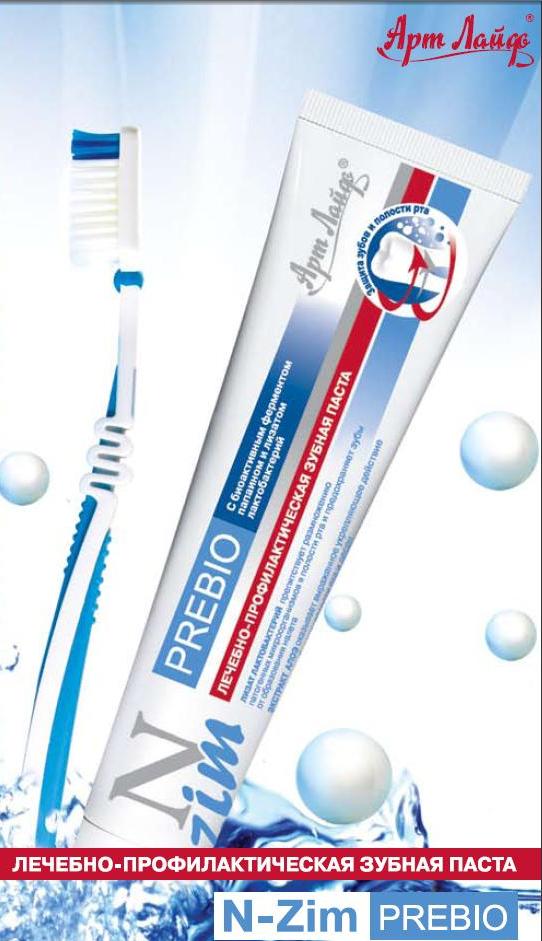 In mid-May 2009, the Company has released a new Artlife curative and preventive toothpaste N-Zim Prebio, which are of high quality
and efficiency. It is unique in the dental market, and its unique structure designed to meet the normal microflora of the mouth.

Commented dentist, doctor of the highest category of Tetyana Protorova, Novosibirsk:

Every sane person cares about their teeth and gums in the best of my ability and knowledge. However, as is my practice, some patients dental care is limited to cleaning them once a day, many do not have a useful habit to use floss (filaments for teeth).
This idea of ​​the oral care often cause problems, from bad breath and poor color enamel to serious diseases such as caries. The fact is that in the oral cavity is continuously reproduce hundreds of thousands of micro-organisms, waste products which the acid eating away at tooth enamel and leads to its softening. Moreover, dental plaque, which they form, is one of the reasons for bad breath and promotes the formation of tartar. A plaque bacteria, in turn, can lead to gum disease and, consequently, their bleeding and parodontosis.
Today the market is not so much toothpaste that also would increase the immunity of the mouth, effectively remove plaque and protect from bacteria to grow. It is a paste that has no analogues in Russia. Therapeutic and prophylactic toothpaste N-Zim Prebio Artlife Company has not only a cleansing action, but also serves as an excellent means of preventing dental diseases. It contains in its structure lysate lactobacilli, which increases the activity of local immune cells. This helps protect teeth against decay, plaque formation and reduce the risk of propagation of pathogenic microorganisms that form plaque. I recommend the pasta N-Zim Prebio their patients for the prevention of dental caries and tooth whitening in Novosibirsk. Always remember that to maintain oral health requires regular brushing (at least twice a day for 3-5 minutes), the right of its implementation, use floss every day, and timely visits to the dentist.

A full dental care with the N-Zim Prebio:

■ This is the normal acidic environment (pH-5, 5) in the mouth.
Due to the special component, which is part of N-Zim Prebio, normal acid-alkaline balance in the mouth.
■ It is the protection of the bacteria to grow.
A distinctive feature of the N-Zim Prebio is used in the formulation of Lactobacillus lysate,
which increases the local immunity, thus preventing the proliferation of pathogens in the oral cavity and the preservation of beneficial microflora.
■ These are healthy gums.
Toothpaste N-Zim Prebio reduces the painful symptoms of inflammatory processes. Its constituent Allantoin relieves inflammation of the gums and reduces their bleeding. A combination of lactic acid bacteria lysate with Aloe provides nutrition and wound healing effect on the mucous membrane of the mouth and gums.
■ This plaque removal.
Plant enzyme papain effectively splits the dangerous plaque and does so carefully, that does not cause any damage to tooth enamel, and silica nanoparticles adsorb and eliminate it for rinsing. Moreover part of the lysate lactobacilli protects teeth from plaque formation. As a result, N-Zim Prebio maintains a perfect oral hygiene.
■ It is prevention of tooth decay.
N-Zim Prebio helps prevent tooth decay by acting complex. First, it effectively removes plaque, and secondly, restricts the production of acids by bacteria of dental plaque and, thirdly, prevents deposition on the enamel surface of microbial particles.
■ This is a breath of fresh air.
N-Zim Prebio provides a fresh breath from the components that effectively fight bacteria - the main cause of bad breath.
■ This is a delicate brushing your teeth.
Toothpaste N-Zim Prebio on gently effect on tooth enamel and gums.

With the new toothpaste N-Zim Prebio you not only protect teeth from cavities and plaque formation, but also enhance local immunity in the oral cavity.