Main

:

News
The Art of Tea collection Art teа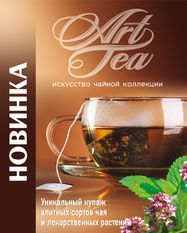 If you think you know all about tea, then you have not tried Art tea. This is an excellent tea each day, combining the best thing that could give the world's tea plantations, and scientific knowledge and expertise in the manufacture of health products.

Art tea - tea is an art collection: a unique blend of elite varieties of tea leaves from Kenya, China, Vietnam and South America, with health extracts of medicinal plants.

Now you can really appreciate the taste of fashionable, trendy teas such as rooibos, mate, Puer, in unique combination.
Black Diamond Collection Art tea - Kenyan black with juniper and Badanov. This high-tea with a distinctive amber color, bitter taste exquisitely fine invigorates and tones. In combination with the therapeutic action of juniper and Bergenia it perfectly supports the immune system, healthy heart and blood vessels, has anti-inflammatory properties. It is recommended to drink in the morning.

Mysterious mate with a combination of Ginkgo Biloba - the nutrient that gives strength and endurance drink. Mate - chaepodobnoe plant growing in South America, in appearance and taste resembles zaleny tea. The drink is recommended to use to relieve physical and mental fatigue, in addition, it improves mood, reduces anxiety and has a positive effect on the cardiovascular system and digestion. In combination with Ginkgo biloba, a "tree of youth", which has the ability to increase blood flow to the brain, each sip of this tea can boost your performance!

This red elixir, Rooibos with wild roses and hibiscus, is able to keep in tone the entire body. Rooibos - "red bush", which grows only in South African savanna. Bushmen believe that it gave the people the gods as a source of good health, energy, and eternal youth.

It is a good way to prevent heart disease, fatigue, nervous and nutritional disorders. Rooibos is recommended for athletes and vegetarians to fill the deficit of salts and trace elements.

Combined with wild rose, a rich source of vitamins, and hibiscus, from which the drink is prepared by the pharaohs, rooibos from Art tea has excellent antioxidant properties.

Spicy sweet drink with a beautiful reddish-brown color infusion drink both hot and cold. It does not contain any caffeine or theine, so that you can drink rooibos at any time and in any amount without fear of insomnia.

Gorgeous Puer, whose name comes from the Chinese town, valued at least a good wine. Puer produce only leaves collected from high tea trees, which are then stored in a warm, humid place where the tea is fermented. Curative effects of Puer tea increases with time, it is kept between 10 and 30 years old!

Despite the fact that this tea contains small amounts of caffeine, it invigorates and improves the efficiency of more than coffee.

Medicinal properties of tea, Puer confirmed by various scientific studies. This tea reduces cholesterol, lowers high blood pressure. As well Puer toxins, it is recommended to drink for weight loss. In addition, Puer - the only tea that it is safe to drink the ulcer. He has a positive effect on digestion, and the collection of Art tea is the property of enhanced exposure fungus, birch fungus, whose medicinal properties for centuries used in folk medicine.

Extraordinary taste of Chinese tea Pu-erh, which is more poetically called "the sweet taste of autumn", perfectly complements the tart taste of birch fungus Chaga. Pu-erh with chagoy of Art tea has a deep dark color, and present a special flavor that will leave no one indifferent!

"Drink wine in the morning and tea in the afternoon," said Vietnamese. When talking about the Vietnam case, we have in mind is green tea. In the East to drink green tea with added color. Art tea offers to try Vietnamese green tea, combined with jasmine and chamomile.

Green Tea with Jasmine great effect on the immune and nervous systems, it also prevents the development of cancer and serves as a prevention of cardiovascular disease. Sweet Jasmine, moreover, is an aphrodisiac, increases sexual activity.

In conjunction with the soothing properties of chamomile, green tea, Art tea from has a relaxing effect, reduces anxiety and fatigue.
Read also:
Comments