Main

:

News
Corn-millet porridge with raisins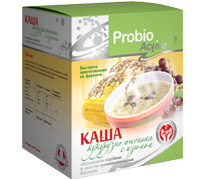 "Corn-millet porridge with raisins" of Artlife company - prepared from natural, high-quality components, has high nutritional and biological value does not contain taste enhancers. Form part of the product components improve the work of the gastro-intestinal and intestinal microflora, which is the key to good health and strong immunity.


Propionic acid bacteria
lysates
stimulates the growth of beneficial intestinal microflora, it leads to improved formulation of protective proteins (antibodies, or immunoglobulins), which contributes to the overall resilience of the organism.
Wheat bran is a source of dietary fiber (cellulose), as well as vitamins and trace elements. At the time of passage through the intestines bran swell, forming a soft mass that cleans the bowels of the decay products. In addition, the bran is digested slowly, creating a long-term sense of fullness, which is important for the people who control the body weight.

Ingredients: cream of vegetable, corn flakes, millet flakes, fructose, raisins, starch, wheat bran, flavor, salt,
propionic acid bacteria
lysates
.
| | | |
| --- | --- | --- |
| Nutritional value: | 1 portion | % Of daily needs |
| protein | 1,99 g | |
| fats | 3,4 g | |
| сarbohydrate | 26,98 g | |
| fiber | 1,81 g | 6,0 |
| Energy value: | 146,48 kcal | |
Weight: 40 grams
Preparation: the contents of the package pour 120-130 ml of boiling water or hot milk. Stir, cover, after 5-7 minutes the product is ready for use.
Method of microwave cooking: the contents of the package pour 120-130 ml of water. Stir, put in a microwave oven (Mode 600 W) for 1,5-2 min, the product is ready for use.
Read also: