Main

:

News
Artemizin S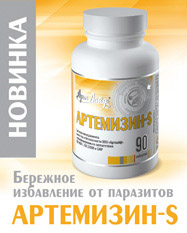 Attention, new!
New improved formula supplement "Artemizin"- "Artemizin-S »- complex to protect the body from the majority of helminths and protozoa.
Diseases caused by parasitic worms and protozoa, have a high prevalence, and get them very easily. Not always infection are asymptomatic, more often, once in the human body, the parasites cause a violation of not only the digestive tract, but also other organs and systems. With all the variety of drugs, is still an enormous popular complexes and fees based on herbs, since they are suitable not only for the treatment of parasitic diseases, but also for their prevention.
Artemizin S
Phyto complex aimed at combating gastrointestinal parasites. It consists of a group of medicinal plant started, time-tested and have shown high efficiency in the release of parasites, as according to traditional medicine, as well as from studies of domestic and foreign experts.
Vegetative components of natural complex Artemizin-S can sanitize the body, bringing the parasites from the digestive tract, incidentally providing a complete recovery. Wormwood, enhanced active substances of the extract, tansy, thyme - a plant with a powerful disinfectant and anthelminthic action. The active ingredients of these plants destroy roundworms, as well as pathogens, causing dysfunction of small and large intestines. Buckthorn provides soft release of the large intestine, helps to combat flatulence. Thyme and clove, as included in the complex - powerful natural painkillers. Carnation, except antihelminthic activity, possesses a strong antifungal activity. General improvement of the body contribute to fever, wound healing and restorative effect of wormwood, an antimicrobial, antiseptic effects Knotweed. Thanks spasmolytic, choleretic and antiseptic effect of buckthorn, St. John's wort, and peppermint to normal intestinal peristalsis, prevents absorption of the decay products of helminths and protozoa. In general, the composition of herbal complex Artemizin S has a beneficial effect on gastrointestinal mucosa, due to astringent mountaineer and anti-inflammatory activity of thyme and sage, an additional advantage is the ability to strengthen immunity.
Features of Supplement Artemizin-S.
The new formula supplement Artemizin-S contains more of the fundamental active components, which generally increases the efficiency of the complex in the fight against parasitosis.
1. The structure of Supplement Artemizin includes flowers carnations and microencapsulated essential oil of clove, allowing increased effective impact of the complex on eggs and larvae of the worms.
2. The combination of herbs tarragon and wormwood extract can effectively combat the parasites, has anti-inflammatory, antibacterial, spasmolytic and choleretic effect
3. The complex is introduced buckthorn bark, which has a milder effect on the gastrointestinal tract compared with the hay, without causing cramps and pain in the gut.
4. In the Supplement Artemizin-S is used enteric coated tablets, which allows you to keep intact, biologically active substance complex from the inactivating action of gastric juice. Their release begins in target organs - the duodenum. Stores and bring the active substance without changes to the intestine in 30 seconds.
Supplement Artemizin-S - gentle and effective protection against parasites!
Read also: