Main

:

News
Artlife - Moldova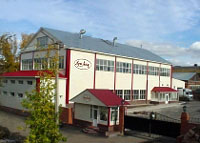 In October 2011 in Chisinau took place the official opening of the Service Center Artlife - Moldova. On the first day of office, which took an entire three-story building in the city center, visited a few dozen to explore the Company's products Artlife.

In the office today launched the "Schools for the product," a presentation of the Company, slimming clubs, which are conducted under the guidance of professional doctors. And since November at the office began its work a permanent physician - internist, who can not only advise on the use of products Artlife, but also to the primary diagnosis. If the client requires a highly specialized or more in-depth diagnostics, here is he will be discharged in the direction of a medical institution with which the representation Artlife concluded the contract on the provision of medical services. But already in the plans of its own equipment for the laboratory diagnosis of a complex organism in the area service center.

We remind you that last year was officially opening a representative office in Greece Artlife. In addition, the results of 2011 the organization Partners Company in India has topped 10 000 centers were opened in three new states. All in all, the results of the past year in Russia and CIS countries have begun to operate more than 30 new service centers Artlife.

Leading the way - the opening of the official representative Artlife in Germany, which will take place in the near future in Stuttgart. Stay tuned for news on the company website!
Read also:
Comments