Cosmetics manufacture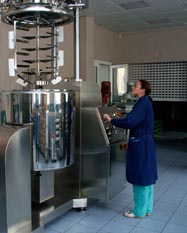 Opening on the basis of the Company Artlife plant for the production of cosmetics - another step towards beauty, health and youth.

Thanks to new developments and high-efficiency equipment cosmetics Artlife has not only preventive, but also a pronounced therapeutic effect. Cosmetic line includes: a means to care for a person, body, hair, and hygienic cosmetics.

Products Company has successfully passed the test at the Center for Certification of perfumery and cosmetic products Beauty Institute (Moscow) and the Ministry of Health, as well as in many Russian beauty salons. The development of formulations of cosmetics company with such world leaders - the producers of cosmetic raw materials, as «BASF», «Cognis» (Germany), «MANE» (France).

Packing cosmetics company Artlife has 3 stages of protection:

- The use of modern packaging - Tubes - protects active ingredients from contamination by micro-organisms;
- sealing with foil prevents the product from unauthorized autopsy;
- Drawing the text on the screen printing method Tube further protects the product from imitations.
Comments