Main

:

News
Vitamins Funny Vit - grow bright!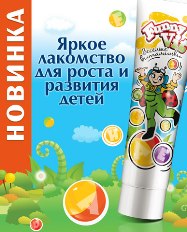 Vitamins Funny Vit - a B vitamin complex, which includes everything you need for cognitive and physical activity for children aged 3 years and older. The unusual shape - gel with colorful balls - is a unique invention which has no analogues in the market.

Gel base contains water-soluble B vitamins (B1, B2, B3, B5, B6, B7 and vitamin H (biotin), B9, B12). These vitamins do not accumulate in the body and, therefore, they must be included in the diet of the child every day, because they are needed to support the nervous system and the brain during cognitive activity, to reduce fatigue during intense exercise.

Balls - is alginate capsules made of seafood, they include fat-soluble vitamins and saves their useful properties, eliminating oxidation and other destructive processes. Vitamins A, E, D are essential for the growth and development of teeth, bone and muscle, support of, and immunity. Fat-soluble vitamins are well absorbed in the presence of a fatty environment, so it is recommended to use vitamin complex with a meal, one scoop a day. Smeared colorful treat for bread, porridge or decorating, you will make a delicious meal, festive and fun. This useful entertainment to please any child!
Read also:
Comments