Main

:

News
Serum for the skin around the eyes UNIQ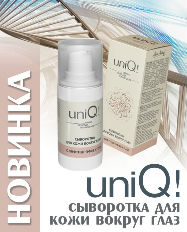 A new product line of cosmetics in Artlife uniQ!
Safely and effectively care for the skin around the eyes, helps the skin to restore its structure, the original elasticity and firmness.

Provides comprehensive anti-aging action:

smoothes wrinkles and fine mesh wrinkle eye contour;

provides deep hydration, nourishes and strengthens the skin, allows the skin to tighten weakened century;
has a relaxing and draining effect, prevents and reduces the severity of swelling and dark circles under the eyes.
A special group, Vitasourse, isolated from the roots of Scutellaria baicalensis, activates telomerase, which increases the number of divisions of fibroblasts, and thus slows down the process of aging.
High-tech Eyeliss ® - prevents and reduces dark circles under the eyes by reducing capillary permeability, increase lymphatic circulation, improve skin elasticity.
Due to the unique complex Ronaflair ® LDP, containing fluorescent particles, skin looks smoother and more radiant.

Use serum every morning or evening. In the evening should be applied using serum no later than 2 hours before bedtime.

How to use:

before applying the serum, clean the face and the eyelids;

Take the tip of the ring finger and the little bit of whey pound;
Apply the serum light pat with your fingertips on the eyelid skin along the massage lines *, excluding mobile eyelid.
* Massage lines around the eyes:

line of the upper eyelid, extending from the inner corner of the eye to the outside;

Line the lower lid, extending from the outer to the inner corner;

when applying the cream to the skin of these areas least susceptible to stretching!
Read also:
Comments