Main

:

News
Lip balm Naturasept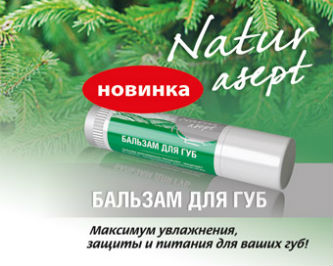 For the health and hygiene of lips! A unique combination of all the necessary skin lips natural natural ingredients! Fragrance-free and preservatives! Maximum moisturizing and nourishing! Unique balanced blend of natural ingredients!
Capabilities:
Daily

security

and nutrition;

Prevention of inflammation

;

Relief of symptoms

in

remission.
* It has a preventive effect of various inflammatory responses against the virus, eating, cheilitis (can be used at the time of remission and prevention).
* Enhances the protective function of the epidermis (immune protection, anti-inflammatory and antiseptic).
* Contains natural UV filters to protect from the sun.

Included in the unique complex of vitamins and oils and extracts nourish lips, cracks heal, protect from drying and cracking.
Vitamin A - is considered a major vitamin for skin lips. Promotes regeneration and collagen synthesis.

Vitamin E - a natural antioxidant. It not only protects the cells, but also long supported in the water balance of the skin, prevents moisture to evaporate through the outer layer of the skin.

Carbon dioxide extract of Siberian fir - has anti-inflammatory and regenerating action. As an antioxidant to prevent aging of the skin cells.

Avocado and sunflower - increase hydration of the upper layers of skin, improve skin elasticity. Soften lips.

Almond oil - thanks to the high percentage content of vitamin E, almond oil, slows down the aging process, protecting the skin of the lips from harmful ultraviolet radiation. Presence in almond oil vitamin A promotes good hydration.

Tea tree oil - has antibacterial, antifungal, antiviral immune stimulating effects.

Beeswax - prevents dehydration, creates a protective coating.

How to use: Apply to clean balm skin lips thin.

Recommended for daily care of the lips.
Read also:
Comments