Main

:

News
Shabby chic curtains: romance and elegance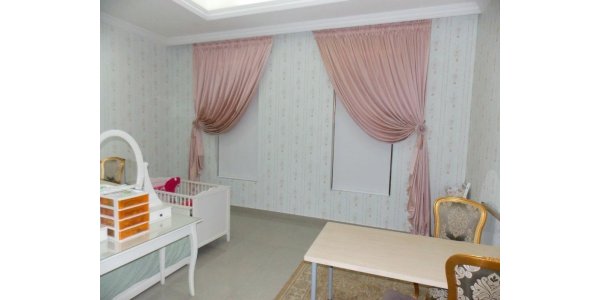 Shabby chic is a modern fashion trend in interior design, replete with romantic details. Although the name of the style translates as "shabby, aged chic", this does not apply to curtains - they should be elegant and solemn. For curtains in this style, special requirements are imposed on:
Colors.
Materials.
Decorative items.
The unique combination of rough burlap and touching lace fits perfectly into the shabby chic style and can be used in stylized rooms and home interiors.
Features of textiles
The prevailing color range for fabrics is pastel, muted tones:
Light pink.
Purple.
Sand.
Turquoise.
Cream.
Creamy.
Pearl.
Curtains in the living room shabby chic
The curtains in the shabby chic living room are curtains that should maintain the atmosphere of lightness and affability inherent in the provincial concept of antiquity and antiques. In this style, furniture imitating antiques is used, with traces of wear, and certainly with curved lines. And the curtains in the shabby-chic living room should "play along" with this imitation.

Shabby chic curtains in living room are mostly white curtains because white dominates this type of design. Everything in the room is white, from the ceiling to the floor. Of course, splashes of pastel colors are allowed and welcomed, and no flashy details. The curtains in the living room the photo of which you see for the shabby-chic room can be pale cream, pale pink, light blue. We will make curtains in different styles to order for you!
Living room curtains: fabrics
Curtains in a shabby chic living room can be sewn from different fabrics, ranging from heavy curtains to muslin. [Living room curtains: vintage] Living room curtains can have decorative embroidery with gold or silver thread. Also, this style allows curtains in the living room with themed patterns and designs of flowers and vegetation, but without kitsch.
Curtains in the living room: vintage
Vintage curtains in the living room for the shebi-chic style can be sewn from simple flowered chintz. It's your choice: either you complement the extravaganza of white with snow-white organza, or the curtains in the living room will stand out with a soft creamy contrast of natural silk or natural linen.
Read also:
Comments