Main

:

News
The clearing program Q-system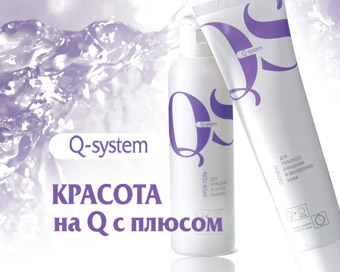 Almost 50% of all skin problems are caused by improper cleaning it. To maintain health and youthful skin, use 100% safe and effective means of purification.

6 advantages of perfect purification Q-system:
• Effectively removes makeup and impurities
• does not disturb the pH-balance
• neutralizes hard water
• does not cause irritation
• Suitable for all skin types
• does not penetrate into the dermis
The clearing program Q-system - it is 2 procedure required for the youth and beauty of the skin:
• Velvet cleansing
• The effect of peeling salon at home

Q-feature of the approach:
- Each tool performs two functions - both cleans and cares for the skin, preparing it for the following cosmetic procedures. The cream-gel and peel Q-system complement and reinforce each other's action.

The cream-gel for cleansing and removing make-up Q-system
Gently and effectively removes make-up and is ideal for those who prefer to clean the skin with water.

Q-clearance
The main components are the derivatives clearing of palm, corn, sunflower oils and glucose, they are perfectly bound and removed from the skin surface contamination without causing irritation. Tetranil-U has fungicidal and bactericidal effect. Unlike other antibacterial drugs, it shows excellent compatibility with the skin without causing irritants. Skin cleansing is necessary not only to remove makeup and dirt, but also to increase the permeability of the stratum corneum. The active ingredients, applied after the procedure, penetrate deeper into the skin and act more effectively.

Q-Care
In addition to cleaning components cream-gel contains ingredients that prevent the contraction of the skin and neutralize hard water, giving an exceptional feeling of comfort. Part of the money chamazulene protects and soothes the skin, has anti-inflammatory and bactericidal action. In turn, allantoin moisturize and soften the stratum corneum, promotes tissue regeneration, wound healing has an effect on the skin, making it smooth and supple.
Thanks to this balanced composition of the cream-gel Q-system protects the skin from drying, softens and moisturizes, nourishes with nutrients and stimulates cell renewal. Its daily use helps keep skin healthy and supple, returns to her natural brightness and shine.

Peeling for face Q-system
Soft texture gives skin peeling deep cleansing and renewal, has no mechanical abrasion and impact.

Q-clearance
Deep cleansing of the skin provide natural exfoliating ingredients - enzymes (keratolin and papain) and glycolic acid. Due to such a basis peel gently and gently removes dead skin cells without damaging or irritating the skin, so the procedure can be carried out frequently - 1-2 times a week. And papain enzymes keratolin clean the skin at the deepest level, accelerate biochemical processes, as well as the split between dead cells and help reduce the adhesion of cells of the stratum corneum, thereby providing exfoliating and regenerating effect. Papain - an enzyme derived from papaya fruit papaya, it removes toxins. Papain is valid only on dead cells, as always present in living matter, protease inhibitors, which makes the enzyme inactive, so it can be confidently applied to the skin. Keratolin contains a protease derived from fermentation of grape juice. During the procedure, peeling keratolinom shine disappears, and the narrow pores are cleansed, the skin becomes healthy and uniform color, soft and velvety. In addition keratolina and papain in the recipe contains glycolic acid peel. It dissolves dead skin particles of epidermis, improves cell renewal and stimulates collagen and elastin, thus preventing the appearance of fine lines, and also regulates melanin production, reduces excessive pigmentation and reduces the appearance of dark spots

Q-Care
In developing recipes peel, experts Artlife introduced into its composition caring ingredients to support the skin during the procedure. This pumpkin seed oil, wheat fiber, Allantoin and D-panthenol. Pumpkin seed oil has regenerating, moisturizing, nourishing and rejuvenating effect, restores skin elasticity and softens it. Wheat fiber absorb pollution, slow the aging process, are a source of supply of skin cells. Allantoin moisturizes and softens the stratum corneum, promotes tissue regeneration, anti-inflammatory, soothing and wound healing effects on the skin making it smooth and supple. D-panthenol has a healing, moisturizing, smoothing and anti-inflammatory action.

This combination of ingredients is optimal for soft peeling, which can be done safely at home. Even after one treatment peel Q-system, you will notice that the skin is smooth and elastic, has acquired a healthy and well-groomed appearance.
Read also:
Comments